SOLO
An Artist 

An artist is one who has, over years of practice (and/or years of persistent undoing): 

created a thin, translucent window between inner and outer worlds; 
reestablished the translucency present at their beginning; 
shared life experience via selfless giving; 
accrued inner experience through some medium; 
developed a way where there's little interference from the conscious mind.
 

~Anonymous
(former Bucknell student)
 

_S  A  N  C  T  U  A  R  Y_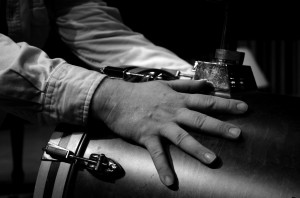 Ethan B. Van Buskirk 
for WDR, Berlin
2014 c&p CornerStoreJazz (CSJ-0086), publish pending
(53:05)
 I

   Awaken
1.   Spirits (2:40)
2.   Aqua (0:56)
3.   Rapid Eye Movement (2:02)
4.   Pollock (2:08)
5.   Hands and Stones (2:26)
 II 

   Eastern Thoughts
6.   Ritual Call (1:19)
7.   An Answer (1:29)
8.   Sympathetic Membranes (1:50)
9.   Wind in the Chime (1:58)
10. Kabuki (3:10)
 III

    Western Habits
11. Longer Shorter (2:30)
12. Whispers (1:06)
13. Metal at Warp (1:57)
14. ACME Mechanism (2:01)
15. Free Radicals (2:04)
16. Wood Spirits (2:14)
17. Cat Toyz (1:39)
18. Puttering (1:27)
19. Bent Offerings (2:33)
20. Feline Dreams (2:35)
21. Cha-Cha Cha (2:35)
 IV 

    Junkyard Blues
22. Dumpster Diving (1:44)
23. Jurassic Lark (2:26)
24. Garbage on Parade (2:55)
25. Run, Hide, Ss-shit! (1:39)
 V 

    al Coda
26. Bop Be (2:06)
27. Chugg (0:14)
Phil Haynes
, solo drum set, found instruments, & hand percussion
2014 c&p CornerStoreJazz (CSJ-0086), publish pending
Ethan B. Van Buskirk
  Ethan B. Van Buskirk
_Instruments_
6 ply (Ray) Ayotte Custom Wood Hoop drum kit:
18×14" BD
14×5" SD
12×7 TT
13×12 FT
14×13 FT
Cymbals on stands:
22" Istanbul ride
20" Istanbul ride
14" Avedis Zildjian 'new beat' hi hats
Hand cymbals:
20"Avedis Zildjian Pang
18"Avedis Zildjian China Boy
13' Istanbul splash
Ethan B. Van Buskirk
  SANCTUARY  
~
Lore – Mantra:

 
refine

fresh

expression
Relevance – Answer:

 
sanctuary

sculptures

awaken 
Phil  Haynes

 
~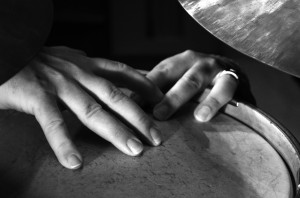 Ethan B. Van Buskirk

_Artist Notes_
 Ethan B. Van Buskirk
According to family
LORE
, I have been regularly creating solo percussion works since I was 18 months old.  It was not until nearly 20 years later, while attending Coe College in Iowa, that I confronted face to face the solo music passion of Anthony Braxton, and upon his insistence realized that adding my voice to this most revealing of idioms would eventually become mandatory.
Teaching myself how to create effective improvised solo pieces, faithful to what I could spontaneously produce for live audiences, became a kind of
MANTRA
.  It was not until my mid-thirties, however, that I felt ready for "the microphone" and document such personal music for drum-set.
Learning to perform as a solo artist forced me to
REFINE
an approach to all ensemble improvising and writing,  Since this realization, I've been on a quest to help bridge the gap between successfully composed modern "classical" works with that of music composed in real time (new music improvisations, jazz, free, etc).
I often marvel at both the independence and strength of J. S. Bach's fugal part writing. His approach serves to remind me to be more internally consistent in my own development of

parts, in all settings, so that they might be interesting in and of themselves.  Thinking in such a "Bach-ian" way – frequently after I have intuited my first themes – has helped me to discover both a more consistent and

FRESH
music.
Whenever work by great improvisers disappoints me, it is usually due to a lost sense of collective artistic discipline (sufficient self editing), thus presenting unbalanced musical "run-on sentences".  Such stream-of-consciousness
EXPRESSION
can collapse under its own weight/length when it lacks the quality and clarity of sturdy thematic ideas meshed with well timed and edited formal development.  Some of the most exciting material ever conceived, however, comes via such spur of the moment pre/subconscious "Ah ha" creations.  Bridging the apparent opposites of conscious vs. subconscious creativity is a perennial challenge for every artist.
"Legit/classical" percussion writing can fall short too, especially when it relegates percussionists to that of mere sound effects generators – or worse yet, un-imaginative, ill-orchestrated and non-lyrical "drummer parts".  I've attempted to reshape our role in all situations – as more than just a time keeper, colorist, and percussive engine – striving toward a style that also suggests melody, counterpoint, harmony, and compositional
RELEVANCE
,
seeking to contribute to my instrument's evolution.
Hence, my
ANSWER
to the puzzle of developing a progressive solo concert approach seems simple enough: improvise first theme(s) spontaneously; develop the ideas generously while adopting one of the earliest exit points for each movement; group these contrasting movements into larger multi-sectional works during performances via experienced intuition; allow significant pause to provide sounds with their natural decay – creating appropriate space before beginning another movement or introducing a new compositional sequence.
In order to capture the magic of good live concerts, I decided to record
SANCTUARY
in complete hour-long non-stop sets, at the invitation of SFB Radio, Berlin.  Over a two day period, we documented four of my concert sets for potential airplay (3 were suitable for release), then I selected movements from each of these sets to craft this edited 5th Set for CD publication.
Final musical preparation for the session took place in the cellar of Gebhard Ullman's apartment complex in the Kreuzberg neighborhood of Berlin.  Often so soft and unusual(?) were my sound
SCULPTURES
, as I attempted not to be heard by anyone, that neighbors periodically would venture downstairs searching for unknown phantoms, yet never quite being able to localize or identify them in the large, resonant, and partitioned basement.  The closer they crept, the softer and more sparse I became, leaving the befuddled tenants searching in vain for their suspected ghostly vermin(?).  Practice of such intimate soundscapes sharpened my ability to consistently communicate the universe of percussion music that is frequently too soft for practical live presentation – yet ideally suited for the acoustics of SFB's distinctive and live room (originally built in the 1920's for the Berlin Philharmonic to record in).
All said, I simply hope that my rather "Zen meets West" approach to solo music might
AWAKEN
a new appreciation for the vast language(s), orchestrational color, and formal development available to improvising artists – as well as more traditional composers – able to utilize the "new percussion".  Do enjoy your tour of my personal sanctuary.
~ Phil Haynes
Ethan B. Van Buskirk
_Special thanks_ 
SFB studio engineer Ekkehard Stoffregen, recording supervisor/producer, Wolfgang Hoff, and especially Gebhard Ullmann, who introduced us all to each other's work, resulting in these recordings;
+ principal drumming influences "Papa" Jo Jones, Buddy Rich, "Philly" Joe Jones, Ed Blackwell, Elvin Jones, Tony Williams, Jack DeJohnette. David Garibaldi and Steve Lawrence, my seminal Oregon Symphony percussion mentor;
+ Wayne Mercer, longtime Oregon Symphony section leader who helped select my first kit (a 1940's WFL 4pc set covered in sparkle blue spray paint w/UFIP cymbals!); first inspired drumset teacher, Rick O'Connell, during his studies at Pacific University in the early1970's; Portland, Oregon guitarist, Steve Blackman, who introduced me to "real jazz" and many professional small group experiences;
+ Coe College mentor, kindred spirit and longtime co-conspirator, Paul Smoker; guitarist John Stowell; precious days spent with both Ed Blackwell and Jack Dejohnette before moving  to New York;
+  teachers Richard Hervig, Don Thompson, Lee Konitz, David Liebman, Joanne Brackeen, Dave Holland and Anthony Braxton;
+ New York life with Drew Gress, Herb Robertson, Ellery Eskelin, Andy Laster, Mark Feldman, Micu Narunsky and Ben Monder;
+ sound engineers Rudy Van Gelder, David Baker, Jim Anderson, Allan Tucker and Jon Rosenberg;
+ composers  J.S. Bach, Maurice Ravel, Charles Ives, Anton Webern, Igor Stravinsky, Carl Ruggles, Aaron Copeland; Bela Bartok, Karlheinz Stockhausen, Gyorgi Ligetti, Duke Ellington, Charles Mingus and Kenny Wheeler;
+ life friends Ryan Holznagel, Stephen Blackman, Jim Yanda, Owen Howard and Christian Kvech;
+ stellar family members Harold, Gladys, James and Mary Beth Haynes; Martha Batchelor; Dee Ann Casteel, and the countless others who have touched my life

.
Or, better yet, if you don't really care for my depiction of sanctuary, please, only blame ME!
 Ethan B. Van Buskirk

  _Credits_
Recorded January 7-8, 1999, 'direct to stereo', for the SFB Radio, Berlin
Engineered by Ekkehard Stoffregen, and edited October 12, 1999.
Recording supervisor, Wolfgang Hoff
Mastered by Allan Tucker, Foothill Digital, NYC, March 28, 2002
Final Sequencing and Mastering, Jon Rosenberg, Brooklyn, NY, 2015
_Phil Haynes_
is honored to endorse
Ayotte Custom Wood Hoop Drums
as well as
Attack Drum Heads
(single ply coated batters combined with medium single ply clear bottoms)
both products Phil has used continuously and recorded with exclusively .  .  .
since 1993
" I would use precisely the same products whether I received special financial consideration or not! 
Together, both of these product lines help me to complete the crafting of my own sound. 
Gentlemen, of both Attack and Ayotte, your products are truly extraordinary. 
Thank you for supporting and advancing the percussive arts. " 
~Phil
AN ARTIST

 

is one who has, over years of practice (and/or years of persistent undoing): 

created a thin, translucent window between inner and outer worlds; 
reestablished the translucency present at their beginning; 
shared life experience via selfless giving; 
accrued inner experience through some medium; 
developed a way where there's little interference from the conscious mind.


~Anonymous
(former Bucknell student)
~ Adrinanne L. Schot