Press
"Remarkable is Phil Haynes: just like Jack DeJohnette or Bob Moses he is broadening the beat by means of a significantly melodic component. You don't have to be a prophet to foresee a great future . . ."
~ Heinrich Oehmsen, Szene, Hamburg
"Phil Haynes not only proved worthy of the [solo] opportunities accorded him, [his] sharply contrasting tunes ranked among the evening's highlights."
 ~ Mike Joyce, The Washington Post
"Speaking of Phil Haynes . . . the technical side of his playing is no issue at all . . .   He uses his great dexterity for intensive communication and intricate networks among his fellow players . . . he will be one of the great drummers of the 1990′s in the line of Jack DeJohnette."
~ George Kleinert, Jazz Podium
"One of the top drummers and composers of his generation."
 ~ Jazz Ed Magazine
 * * * * *
No Fast Food: "IN CONCERT"
CornerStoreJazz (CSJ-0107 / 0108)
featuring:
David Liebman
Drew Gress
"Ridiculously good — One of the two best trios since the legendary Elvin Jones."  
*  *  *  *  *  
"E
loquent and sublime,
No Fast Food – In Concert
is a masterpiece of modern jazz and avant experimentation in breathtaking ambiance . . .
Stressing intimate communication and the opportunity to creatively fill space or to keep it tantalizingly open, No Fast Food react with jaguar-like agility, each member responding to the other with li
ve-wire resourcefulness." 
~ Joseph Timmons, Xombiewoof
"Despite the fact that the album is not likely to be a 'hit' on the marketplace, it does merit musical comparison with 
Miles Davis

' all-time best-selling Kind of Blue (Columbia, 1959)."
"Phil Haynes!
He swings hard like Elvin, has an acute sense of set sound and inventive figuration like Tony, and he plays with the others . . . A player who has soaked up the tradition and gives out with himself . . . within varying compositional structures for a program that never tires.
Get it if you can.  For Liebman.  For Gress.  And for Phil Haynes."
~ Grego Edwards, Gapplegate Music Review
 * * * * *
"There's a lot to be said for youthful energy and new ideas . . .  from my perspective as a listener, there are certainly those musicians whose most creative work happens earlier rather than later in their careers . . .
What I find most satisfying is the music of seasoned musicians who individually bring a lifetime of experience to their work and who in groups, bring a level of communication that reflects many, many years together.  That is definitely the case with this CD (It Might Be Spring)."

~ Jim Lanior, Moers Festival 
 
" . . . the perfect middle between tradition and avant-garde, between power and sophistication, between accessibility and adventure. Drummer Phil Haynes . . . has more than 65 albums on his discography, having played with greats such as Dave Liebman, Ellery Eskelin, Dave Douglas, Mark Dresser, Vinny Golia or Herb Robertson, all musicians with superb technical skills, and it's no mystery they chose Haynes to perform with. And obviously Smoker and Haynes performed together too, as is testified here.
Here we get them in a wonderful duo album, recorded live in 2011 in Buffalo, New York.
. . . they treat the audience, and us, to their own personal and idiosyncratic versions of standards, such as "My Funny Valentine" and "Summertime". And if you think these great compositions have been played to death already, think again, because despite – or thanks to – the limited line-up, they infuse the standards with a new sense of drama and dynamics, and true moments of fun.
There is lots to be enjoyed here, and lots to be impressed by."
~ 

Stef

, 

www.freejazzblog.org
 * * * * *
"I first met Phil Haynes in 1984 at the 55 Bar in New York City . . .   He was friendly (somewhat unusual in the ultra-competitive world of early 1980s New York jazz drummers), intelligent, a great conversationalist, and incredibly passionate about music . . . Since then, his musical output has been extraordinary.
He has been a big part of a movement of new jazz that has developed in New York. . . This new jazz, sometimes called "downtown," is focused on composer/improvisers. The improvisation borrows heavily from the free jazz techniques of the 1960s.  The composition is informed by jazz structures and harmony, contemporary classical music approaches and often employs influences from world music. It is uncompromising, challenging, powerful and vital . . .
As he does for all his releases, Haynes brings a personal approach to the producing / arranging / recording process. In a recent conversation, Haynes told me that he felt he had found a group of musicians who tapped into the same heartfelt romance he felt for this material . . .
Sixteen years later, Phil Haynes retains the same qualities that I remember from the first time we met.  He consistently offers to the world an original and intelligent style and his passion for music has only grown stronger. "
~  Michael Friedman, Premonition Records
"On Gordon Bok's "Rosin The Beau", the great cellist Hank Roberts performs vocal harmonies with his earthy and wooden toned Cello lines as guitarist Jim Yanda kicks the proceedings into an affable all acoustic jazz motif. This and other imaginative renditions of Stephen Foster's "Oh Susannah", "Beautiful Dreamer" along with American traditionals such as "She 'll Be Coming Down The Mountain" and "Shenandoah" comprise some of the 13 pieces on drummer Phil Haynes ambitious and thoroughly refreshing new release titled, Phil Haynes & Free Country.
Phil Haynes is a well-known drummer who has performed with the creme de la creme of modern jazz stylists such as saxophonists Ellery Eskelin, Gebhard Ullmann and many others too numerous in scope to cite here. Along with fellow New York City Downtown/modern jazz musicians – bassist Drew Gress, cellist Hank Roberts and acoustic steel string guitarist Jim Yanda, "Free Country" fuses grassroots Americana with hip, upbeat arrangements that toggle jazz, bluegrass and country.
Wonderfully recorded direct-to-stereo, sans amplification Haynes and his cohorts extend or in some situations parallel concepts actualized by guitarist Bill Frisell with his recent forays into Country & Western and Bluegrass.  Sterling resonance and soulful interplay witnessed on "Old Joe Clark" serves as a prime example of the striking sonic characteristics of this recording as Gress' heavy and explicit bass lines in tandem with Haynes' equally wooden toned drums emit a gorgeously radiant environment.
Throughout, Haynes & Free Country breathe new life into American heritage and traditionalism with this joyous and to a greater extent, ingenious and immaculately executed outing."
 Free Country, vol. II,
THE WAY THE WEST WAS WON
I first performed with cellist Hank Roberts on Andy Laster's CD Twirler, I immediately imagined how Hank's
Appalachian
barn dance roots – performing

bluegrass

with his fiddling grandfather – would be a perfect match with guitarist Jim Yanda's Iowa raised
country & western
dance hall beginnings. A few years later, my good friend Christian Kvech said "Why don't you get a
string band
together to play all of that old pre-1900 American Folk music you wanted to arrange for 4 Horns & What? a few years ago.  It might very well gain a wider 'non-jazz' audience and

become

a
popular
success." At that very moment, Free Country was born.
Perhaps either
Hank Roberts
or
Jim Yanda
should have put this band together for themselves as it is a unique expression of their earliest musical influences. My leading role here is as a producer, arranger, and drumming "sideman" in this romantic context – creating a "looking glass" into our American roots as well as our future.  How could the "NPR crowd" resist?  After all (festivals be ware), this 
jazz-grass acoustic Americana
band is uniquely cross-idiomatic and frankly irresistible live.
Free Country, vol. I, 1st edition
SHENNANDOAH
– Phil  
 * * * * *
"The group . . . [4 Horns & What?] used neither a bassist nor a pianist, and either would have destroyed the debut of an extremely promising band . . . an ideal band."
~ Peter Watrous, The New York Times
WHEN
I first considered forming a second band in late 1986, I was trying to reconcile an

interesting

set of

aesthetics

: I wanted a band that could play most situations without amplification; a band that would

 

whisper

 

one moment and raise the roof the next; an ensemble built around the intimate dialogue of a good duet; a small group with wide instrumental color; a big band inspired contrapuntal ability and a format where I would be challenged to assume equality with the front line. The prospect of combining two brass players with two saxophonists and drums became the irresistible solution.
4 Horns & What?

utilizes the African concept of direct conversational

interplay

between rhythm and melody. By excluding other rhythm section players, the intimacy of the drum/horn dialogue

becomes

the

norm

. In this format, harmony returns to its polyphonic roots as an extension of the collective blowing. The result is a wide-open, acoustic, improviser's band, where everyone shares more equal responsibility for solos, accompaniment, and timekeeping.
–  Phil
". . . belligerent . . . polished . . . bits of brass band music . . . jazz . . . chamber music . . . free improvisation, with piles of [4 Horns & What?] sound heaped on each other, writhing . . ."
~ Peter Watrous, The New York Times

"In addition to displaying as much taste as another drummer named [Roy] Haynes, Phil turns in such varied and colorful scores that nothing here sounds like a percussion concerto, except the gorgeous "Ballad for Heike," which is supposed to.  'A' "
~ Francis Davis, The Village Voice
* * * * *
first band, The Phil Haynes
Continuum
,
was a culmination of artistic influences I
encountered
during my first three years of living in New York.  The Passing, my initial recording as a leader, was conceived shortly after meeting
Mark Feldman
in the fall of 1984.  
The excitement of our first duet

sessions

led me to compose and/or arrange my music for his violin, providing Mark with a richly deserved New York jazz debut.  This fresh and original quartet of then "unknowns" created the

inspired

, undeniable chemistry one searches for among significant new artists.  Thanks to Mark, Dave & Drew, the album has aged very well, indeed.
The conception for the quartet combines largely traditional interactions between the rhythm section and soloists with modern tonal harmony – often with my serialized root progressions – as in Shramba and Concerto for Jazz Quartet. Our mixture of strings, piano, and percussion produces a

distinctive

sound

ideal

for realizing my 'mostly jazz, sometimes classical' ensemble approach.
– Phil
"I listened to the music of Phillip Haynes with pleasure.   It has character, it communicates thoughtfulness, and very evident are long intricate and compelling lines of musical discourse [Continuum – The Passing] .   It is music written for the ear but finely molded by a highly developed musical intelligence . . . The performance throughout is highly professional and I believe will delight listeners."
~ Lorin Maazel, conductor, The Pittsburgh Symphony
* * * * *
The
Corner Store Syndicate

 
  [was] a community of composer/improviser/band leaders who are dedicated to true group music, where the personality of the individual performers contributes an integral part to each ensemble's distinctive sound. Each group is a separate musical democracy, given definitive character by the aesthetics of its leader(s).
Not unlike Duke Ellington, the Syndicate's leaders compose new jazz by writing with each member's originality in mind, while

challenging

t

hem to negotiate new forms and concepts. As a result, the musicians involved are used because of the strength of their unique voice and unselfish dedication to expanding the communities' music rather than for commercial considerations.
Together the Syndicate's family of musicians have been featured on over fifty released recordings which pay homage to the entire history of music. They are a non-exclusive community bonded by a common dedication to: developing

new

improvised forms, aesthetics, and languages; continuing jazz's evolution/ expansion as art; and acting as a model for actualizing the potential of true,

collective

, democratic freedom.
Whatever you choose to call this

music

, whether "neo-conservative" or "post-radical", one hearing should convince you that the musics of the Syndicate are powerful, creative, vital, and challenging: music "on the edge."
–  The Corner Store Syndicate, 1989
"Joint Venture's Drew Gress & Phil Haynes comprise one of the most important rhythm teams since Dave Holland & Jack Dejohnette."
~  Hans Wendl, arts manager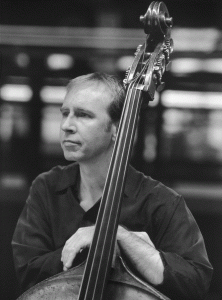 Joint Venture & Free Country's Drew Gress
AFTER
recording

Trad Corrosion with Gebhard Ullmann at the SFB studios in the former East Berlin, the producers for German radio invited me to record my first

solo percussion

recording. The SFB studio had been built in the 1920's to house rehearsals and recordings of the Berlin Philharmonic. The 40' ceilings of this cavernous studio created an environment ideal for my "too soft for live performance" percussive creations, as well as a powerful ally in the traditional "drumming thunder" of my instrumental lineage. I had dreamt of such a project for years, inspired by the solo alto saxophone performances of Anthony Braxton, but had

never pursued

this daunting artistic

challenge

.
 Ethan B. Van Buskirk
Though improvised, this was not a going to be a jazz recording, but rather a

new music

statement for percussionists and composers alike. My strategy was simple, record four one-hour "concerts" of improvisations for the radio, then edit a new combined set for the record. Each hour would be made up of continuous suites of tightly constructed '

spontaneous composition

'

. The original four recorded hours were fabulous, but editing together a new performance, of similar internal logic, proved a startling challenge. The resulting

Sanctuary

is some of

my

most important work

.
– Phil 
"God man — unbelievable — your Sanctuary sounds like Avant-Garde Zen!"
~  Kenji Yastake, Corner Store Resident Critic
* * * * *
MODERN
jazz
master
and educator Phil Haynes' recording debut, The Paul Smoker Trio's

QB

with Anthony Braxton, was named the #1 recording of 1985 by Kevin Whitehead in Coda Magazine.  Within a few years of this release, critics readily compared his drumming to Jack DeJohnette, Roy Haynes and Elvin Jones, and his compositions to Ellington, Ives, Mingus and the Art Ensemble of Chicago.  Of his more than 60 commercially published recordings, Haynes has released more than ten as a leader – with an additional dozen as co-leader.
As a
collaborator
, Haynes has appeared on dozens of published discs with artists in the "vanguard of new jazz" including Anthony Braxton, Dave Douglas, Mark Dresser, Marty Ehrlich, Ellery Eskelin, Mark Feldman, Drew Gress, David Liebman, Mark Helias, Ed Jackson, David Kikoski, Frank Lacy, Andy Laster, Tony Malaby, Hank Roberts, Herb Robertson, Ned Rothenberg, Ted Rosenthal, Rich Rothenberg, Michelle Rosewoman, Paul Smoker, Gebhard Ullmann, and Tom Varner, among many.
Haynes' defining trio, No Fast Food, with bassist Drew Gress and NEA jazz master David Liebman, carries on the great tradition of Sonny Rollins' famed Way Out West and Elvin Jones' pivotal Puttin' It Together recordings.  NFF's al  dente renderings of Haynes' diverse book of
original
s presents a stunning democratic dialogue of both acoustic muscularity and transparent sensitivity.
Haynes' crowd pleasing "jazz-grass" string band, Free Country, presents the entire American popular music landscape – from the 1960's rocking psychedelia, back to Aaron Copeland, Hollywood soundtracks, Stephen Foster, gospel, Scott Joplin, Scotch & Irish traditionals, American Indian themes, Revolutionary & Civil War marches & anthems – through the
singular
acoustic interpretations of: Hank Roberts, cello/voice; Drew Gress, bass + pedal steel; and guitarist Jim Yanda.
In a more traditional context, Haynes' classic piano trio Day Dream, a gorgeous collective with Steve Rudolph & Drew Gress, feature the great American songbook paired with the ensemble's strikingly lyrical and handsomely harmonized original compositions.  The Hammond Brothers, Haynes' electrified & bluesy organ trio w/ guitarist Jim Yanda, jam with great Hammond
virtuosi
world-wide to perform the unit's swingin' original compositions as well as to celebrate works by their brother & sister organist / collaborators.  Also available internationally with Pennsylvania keys specialist, Steve Rudolph (highly recommended).
As a leading
educator
, Phil Haynes' mission for the past decade has been to introduce audiences in centra Pennsylvania to world-class jazz.  In 2003 Haynes moved his full time residence from New York City to Lewisburg, PA, and was soon appointed producer for a new concert series he authored,

Jazz@Bucknell

, presenting a challenging and esteemed international "who's who" of improvising composers over the past decade.  During this period, Haynes accepted a position as Bucknell University's Kushell Jazz Artist in Residence, as well as The Weis Center for the Performing Arts Janet Weis Cabaret Jazz Series Production Coordinator, Directorship of the University's Bison Band, and one of five inaugural leaders of the interdisciplinary Bucknell Innovation Group (BIG).
Active as an

internationa

l

clinician with his touring ensembles – Free Country, No Fast Food, The Hammond Brothers, Day Dream, Continuum and 4 Horns & What? – each group performs the new music and classic compositions by Haynes, as well as participant requested jazz standards at workshops & masterclasses.  Hence, each ensemble welcomes teaching classes on all aspects of jazz history, it's harmony, it's composers, arranging techniques and performance practices – whether for post-graduate, university, high school, elementary, or even preschool audiences.
Haynes especially enjoys introducing all levels of musicians to ritual / open / free spontaneous composition — to actively include the self-proclaimed non-musical(!?!), as well as classically trained, rock-rooted, and/or self-taught folk performers the
essential
s
of sensitive & liberating collaborative improvisation.
~

  C

orner

S

tore

J

azz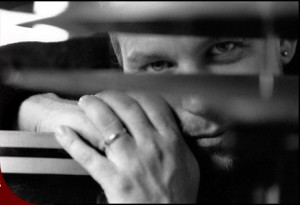 Adrianne L. Schot