NO FAST FOOD
"Ridiculously good – one of the two best trios since the legendary Elvin Jones."

 
*  *  *  *  * 

 

WORKIN' IT – TOGETHER
CornerStoreJazz 0106
featuring:
David Liebman
Drew Gress
A 'Single disc' live concert selection
My all time favorite concert date featuring bass titan 

DREW GRESS

 and NEA jazz master, saxophonist 

DAVID LIEBMAN

. 
No Fast Food's al dente renderings of my originals present a democratic terrain of intensity & muscularity balanced
with serious, transparent sensitivity.
Gentlemen, thank you for bringing it, once again.
~ Phil 
"One of the top drummers and composers of his generation."
 JazzEd
"Anyone seeking a new contemporary jazz trio disc need look no further – this one sets the standard — displaying superb sensitivity and reinforcing t

he majesty of the trio format in the hands of three virtuosos, who might well comprise one of the two or three best trios at this point."
Audiophile Edition
"Despite the fact that the album

 is not likely to be a 'hit' on the marketplace, it

 

does merit musical comparison with 

Miles Davis

' all-time best-selling Kind of Blue (Columbia, 1959)."  

'Complete' live concert 2 CD set 
IN CONCERT
C

orner

S

tore

J

azz 

0107

 

/

 

0108
"As someone who first was introduced to creative music in the late 1960's . . . the music one hears on 'In Concert' hearkens back to those nights in airless concert spaces or large churches, when the music would cut right 

through the listener, bounce off the walls, shock, soothe, and challenge everyone in the audience. 
'No Fast Food' is a fine credo to live by.
This is 'live' music that deserves to be heard live."
Step Tempest
"Phil Haynes and his No Fast Food bandmates are the kind of jazz musicians who make you realize that chopping the genre into subcategories is a pretty silly endeavor.  From tough, deep-pocket postbop to pure-sound improv, every option is in play for this exemplary trio."
Time Out New York
TOGETHER
~Hayphil Music, BMI
THE CODE
~Hayphil Music, BMI
ZEN LIEB
~Hayphil Music, BMI
"Led by Mr. Haynes . . . No Fast Food is a trio inspired by a spirit of collectivism and by the intrepid ethos of the 1970s.  The band's other members are Dave Liebman, on saxophones and flute, and Drew Gress, on bass; this booking comes on the heels of a representative double album, 'In Concert'."
The New York Times
"My Guest is the renowned jazz drummer Phil Haynes. He has recorded over 65 albums under his own name and with others, most notably with the group Joint Venture and with Trumpeter Paul Smoker. His most recent album is No Fast Food, In Concert featuring Dave Liebman on Sax and Bassist Drew Gress.
Interview:  http://www.jazznewengland.com/phil-haynes/
We talked about the new live double disc, another of his groups Free Country and their upcoming live album, composing, Paul Smoker and his time living in New York."
~ Gordon, Jazz New England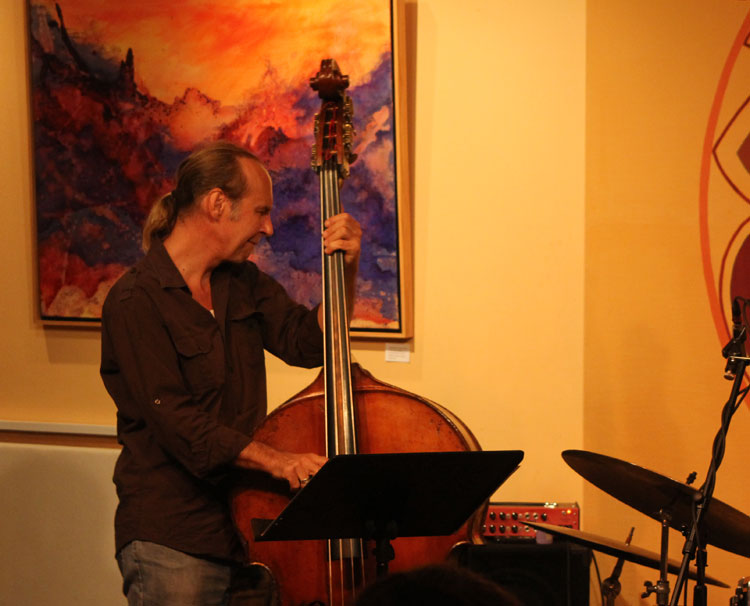 DREW:
"Most are afraid to burn"
PHIL:
                                                   

 "It's time for Workin' it — Together"
LIEB:
"What do you think we're doing, playin' for 3rd graders or some shit"
DREW GRESS
Bassist/composer Drew Gress performs extensively with artists on the cutting edge of contemporary improvised music. His latest project – The Irrational Numbers (Premonition), features Drew's original compositions for quintet. Earlier releases include the critically-acclaimed 7 Black Butterflies (2005), Spin & Drift (2001), and Heyday (1997). Future projects include a new quintet project, a solo bass recording, and an electronics projectȳoon to be unveiled. Drew can also be heard within the ensembles of John Abercrombie, Ralph Alessi, Tim Berne, Don Byron, Uri Caine, Bill Carrothers, Ravi Coltrane, Marc Copland, Mark Feldman, Fred Hersch, John Hollenbeck, Tony Malaby, and John Surman.
DAVID LIEBMAN
David Liebman's career has spanned over four decades, beginning in the early '70s with his "apprenticeship" period performing and recording in the groups of drummer Elvin Jones (Live At The Lighthouse) and Miles Davis (On The Corner). Since then he has lead his own groups (Lookout Farm; Quest;The Dave Liebman Group) featuring musicians such as John Scofield, Richie Beirach, Billy Hart, Adam Nussbaum, Al Foster, John Abercrombie and Vic Juris. "Lieb" has consistently placed among the top three in the Downbeat Critics Poll for Soprano Saxophone since 1973 – winning first place in both the Downbeat and Jazz Times Critic's Poll in 2011.  In 2011, Liebman received the NEA Masters of Jazz Award, the highest honor for jazz given by the United States government.
LIEB:
"Mo-fo brushes, Philly. Mo-fo"
DREW:
"In 3-5 years, I hope to play what I hear on your tunes"
PHIL:
"OK, considering what you've laid down so far, perhaps I can wait"
"Some of the most interesting new sounds in contemporary jazz. 
 The supple, intuitive strengths of this trio have inspired comparisons to the great drum-led trios of Elvin Jones.
Saxophonist/flutist Dave Liebman was in Jones' band, as well as some of Miles Davis' early fusion lineups . . . he brings his near-supernatural qualities of improvisational genius and sheer vibe to the collaboration with Haynes and bassist Drew Gress.
'As three streams of information come together,

 
Haynes says,
there's both this amazing individual clarity that can be achieved, as well as an equality of ensemble counterpoint.  When things work, the sum of the whole is greater than its parts.  
If I do my job as a leader, No Fast Food will always sound like a collective.' "
PRESS LINKS
(liner note poetry concrete)
WORKIN' IT — TOGETHER
 "IN CONCERT"  CSJ-0107+0108
THREE
significant organization
balance freedom
demand responsibility
TRIOS
emancipated accompaniment
revolutionized counterpoint
'tacet' unshackled
presented equals
RECORDING
live concert energy authenticity
continues re-discovering fueling tradition
SAX
dominant progressive
David Liebman influential
alluring vintage
BASS
indispensable traditional
Drew Gress unsurpassed
improvisationally elegant
DRUM
poised blossom
under-utilize potential
lore today
collaborative call/response
ORIGINAL
sharing
languages
framed expression
synthesize histories
FOOD
enriches life
always enjoyed
nourishing time
FAST
relative efficient
al dente debut
NFF @The Bop Shop
KNOW
witness enjoy
all time
the word
~ Phil Haynes 
12/16/12
Tom Kohn, photography, 2012
@The Bop Shop / Lovin' Cup, Rochester
2014 TOP TEN RECORDING:
No Fast Food — 'In Concert'
"This two-CD set is a godsend for the lover of unadulterated modern jazz blowing — drummer Phil Haynes, steals the show. Partly its due to him having composed all

the pieces.
But with uncanny skill, Haynes has appropriated Elvin Jones's triplet-based drumming style. Many have attempted this, but I've heard none accomplish it with such loose-limbed, off-kilter deftness, akin to Jones.
And yet, like his model, this drummer almost always swings, in his own way."
 Kevin Lynch

 
No Fast Food
@Elk Creek Cafe & Aleworks, 2012

                                                                           

 

     Drew Gress                                                                         Phil Haynes                                                                
David Liebman
 "No Fast Food – In Concert is a freewheeling free-bop album by an musically flexible trio of masters hellbent on dealing beauty. 
This is the sound of listening. Spurred on by Liebman's ebullient tenor, the trio basically takes off on "Out of the Bowels" and never lets up. It's the sort of inside / outside jazz that you can listen to for 2+ hours without fatigue."
Dave Wayne, All About Jazz
Reine Brenn'13, photographic art
(artist liner notes concrete)
WORKIN' IT — TOGETHER
CornerStoreJazz 

— 

0106
THREE
is a number significant in human aesthetic and spiritual organization
democratic voices balance individual freedom while affecting collective expression
assembled virtuosos demand enhanced sensitivity, communication & responsibility
TRIOS
evolved emancipated accompaniment in less than a single mid-20th century decade:
Scott Lafaro expanded & revolutionized the bassist's role via his counterpoint with Bill Evans
McCoy Tyner's 'tacet' performances w/ John Coltrane literally unshackled Elvin Jones & Co.
Chick Corea's Now He Sings, Now He Sobs presented Vitous & Haynes as frequent equals
RECORDING
a live concert has a special energy via performer's real-time authenticity
Bill Evans and John Coltrane's Live at the Village Vanguard dates
Miles Davis quintet's Plugged Nickel releases
Circle's The Paris Concert
Lee Morgan's and Elvin Jones' Live at the Lighthouse sides
Duke Ellington's legendary . . .
(the list continues w/o end, re-discovering & fueling our tradition)
SAX
– ophonists have been arguably the dominant progressive jazz voices since Satch & Diz
guru David Liebman is one of a handful of truly influential post-Coltrane saxophone artists,
plus, his alluring wooden flutes, tenor & soprano sounds each recall fine vintage Margaux
BASS
– ists remain the most indispensable contributor to traditional & modern rhythm sections
titan Drew Gress' depth/sound/harmonic impact is unsurpassed in real-time new music today,
plus compositionally and improvisationally, no one is currently more elegant nor relevant
DRUM
musicianship and conception are poised to blossom throughout the coming decades
– mers currently still overlook and/or under-utilize their great thematic and harmonic potential
lore celebrates African talking drums, yet what are we are trying to say with them today
– ming may be collaborative & community building call/response contribution or . . .
ORIGINAL
composition speeds the sharing of personal motivic, harmonic and formal languages
improvisers strive to utilize the freshly framed ideas of each work for sculpting expression
bands synthesize member histories via common creation, intuitive reaction & invaluable trust
FOOD
enriches & sustains life
is always best when enjoyed with others
, like sound/silence, began nourishing each of us not later than the time of first breath
FAST
is relative – and may be efficient, or not
reading presented al dente, sparked NFF's Jazz@Bucknell debut of 9/5/12
Jon Rosenberg recorded NFF again 9/6 @The Bop Shop + 9/8 @Elk Creek
KNOW
, witness and enjoy
it is all about modern time
spreading the Workin' It – Together word, 'yo!
~ Phil Haynes
12/16/12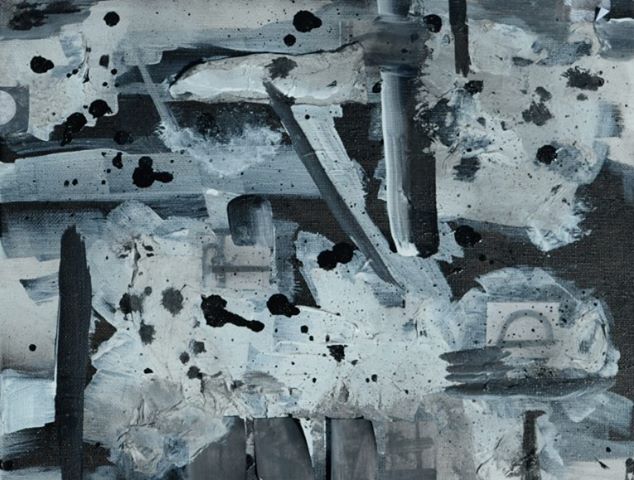 NO FAST FOOD: Nicholas Horner, original album art
 "Phil Haynes!
He swings hard like Elvin, has an acute sense of set sound and inventive figuration like Tony . . .
A player who has soaked up the tradition and gives out with himself . . . Get it if you can. For Liebman. For Gress. And for Phil Haynes."
 Gapplegate Music Review
NO
together
drew

it

gress
phil food haynes
david

work

liebman
FAST
(in')
~pah
(found verse concrete)