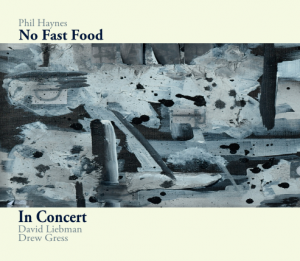 2 CD set
release date, 9/9/14
CornerStoreJazz 0107 + 0108 
featuring: Drew Gress, bass; David Liebman, saxophones & flute
Lieb:
 "Mo-fo brushes,
Philly, Mo-fo"

Drew:
"Most are afraid to burn"
Phil:
"Now is the time for Workin' it —– Together"
Lieb:
"What do you think we've been doing, playin' for 3rd graders or some shit"
The great tradition of. . .

Elvin Jones

'
pivotal PUTTIN' IT TOGETHER recordings and
Sonny Rollins

'
post WAY OUT WEST trios, continues!  
This commanding 2012 live concert date features bass titan DREW GRESS
with
NEA jazz master, saxophonist DAVID LIEBMAN.  
No Fast Food's
al dente renderings of my originals present a democratic
terrain of swinging intensity, acoustic muscularity & transparent sensitivity.
Gentlemen, thank you for bringing it, once again. 
~ Phil
"A brilliant recording — in both music and sound.
Clearly, one of the more promising trio debuts of the past twenty-five years.
Liebman revels as a NFF collaborator and Gress is simply the
master of (re-)compositional insight."
 

~ CSJ, fall 2013
THE CODE
ZEN LIEB
TOGETHER
THE COMPLETE NO FAST FOOD
Easily makes the list of
top 10 recordings
I've ever been associated with
 Definitive live trio renditions of my compositions

 ~ Phil