FREE COUNTRY
"MARI'S WEDDING"
                           This distinctive and broadly appealing 'jazz-grass' string band, featuring cellist/vocalist

Hank Roberts

, guitarist

Jim Yanda

& bassist

Drew Gress

, casts entire landscapes of American popular music  —  including iconic 1960's rock psychedelia and then back through time via Aaron Copeland, Hollywood soundtracks, Gospel, Scott Joplin, Stephen Foster, Scotch & Irish traditionals, American Indian themes, Revolutionary & Civil War marches, our nation's anthems and beyond.  Free Country is serious fun + a savvy romp through our Western heritage.          
~ CSJ, 2013

Free Country, vol. I
Premonition Records 6691 7 90744 2 9
 Phil:
"It's the American Opera.  Our past century's campfire sing-alongs.  It's our nation, growing up."

~Steve Rudolph
"AMAZING GRACE"
"ROSIN THE BEAU"
On Gordon Bok's "

Rosin The Beau

", the great cellist Hank Roberts performs vocal harmonies with his earthy and wooden toned Cello lines as guitarist Jim Yanda kicks the proceedings into an affable all acoustic jazz motif. This and other imaginative renditions of Stephen Foster's "

Oh Susannah

", "

Beautiful Dreamer

" along with American traditionals such as "

She 'll Be Coming Down The Mountain

" and "

Shenandoah

" comprise some of the 13 pieces on drummer Phil Haynes

ambitious and thoroughly refreshing

new release titled, Phil Haynes & Free Country.
Phil Haynes is a well-known drummer who has performed with the creme de la creme of modern jazz stylists

such as saxophonists Ellery Eskelin, Gebhard Ullmann and many others too numerous in scope to cite here. Along with fellow New York City Downtown/modern jazz musicians – bassist Drew Gress, cellist Hank Roberts and acoustic steel string guitarist Jim Yanda,

"Free Country" fuses grassroots Americana with hip, upbeat arrangements that toggle jazz, bluegrass and country.
Wonderfully recorded direct-to-stereo, sans amplification, Haynes and his cohorts extend

 or in some situations parallel

concepts actualized by guitarist Bill Frisell

with his recent forays into Country & Western and Bluegrass.
Sterling resonance and soulful interplay

witnessed on "Old Joe Clark" serves as a prime example of the striking sonic characteristics of this recording as Gress' heavy and explicit bass lines in tandem with Haynes' equally wooden toned drums

emit a gorgeously radiant environment

. Throughout, Haynes &

Free Country breathe new life into American heritage and traditionalism with this joyous and to a greater extent, ingenious and immaculately executed outing.
* * * *  1/2

ALL ABOUT JAZZ
Radio Station:
Yes, it is great music & by fabulous musicians, but it makes some of our regular jazz programming sound — well — 'funny'.
Phil:
What — Thelonious Monk's bands in the 1950's didn't sound funny next to Dave Brubeck or the MJQ?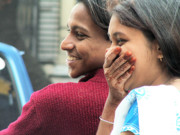 "Accessibly infectious, breathlessly brilliant, AND undeniably fresh – Free Country is a modern treasure." 
~ CSJ, 2000
"
I first performed with cellistHank Roberts on Andy Laster's CD, Twirler.  Immediately, it was exciting to imagine how
Hank's Appalachian upbringing
– performing Bluegrass with his fiddling grandfather – might be
matched with guitarist Jim Yanda's Iowa raised Country & Western dance hall roots.
A few years later my Bavarian friend, Christian Kvech, said "Why don't you just get a string band together to play all of that pre-1900 American Folk music you wanted to arrange for 4 Horns & What?  You may well gain

  a wider 'not only jazz' audience as a popular summer festival band.
At that instant,

FREE COUNTRY

 was born.
Perhaps either Hank Roberts or Jim Yanda should have put this band together for themselves, as it is a unique expressive outlet for their earliest musical influences.  My leading role here is chiefly as a producer, arranger, and collaborative drumming sideman; this

intimate & romantic ensemble creates a 'looking glass' into our Western past, while contemplating our global future.
How can NPR's diverse listener-ship possibly resist?  After all,
this jazz-grass band is uniquely cross-idiomatic and frankly infectious to hear live.
"
~ Phil





The Way the 
(aka. Free Country, "The American Trilogy", vol. II)
"THE MAGNIFICIENT SEVEN"
"JOHNNY GUITAR"
"SIMPLE GIFTS"
NEW RELEASE:
"Okay – I know the sum is innumerable when trying to tally all the Beatles' interpretations that have been recorded. However, Phil Haynes and Free Country have covered Britain's brightest exceptionally while incorporating their own exclusive musical technique, as well as adding a few extra surprises."
~ Esther Callens, The Birmingham Times
Phil Haynes & Free Country  
LIVE!
"Something BEATLES" 
(CornerStoreJazz-LP-0105)
(FALL 2014 release)
2012
LIVE

 concert set — 

LP / Vinyl

release featuring hits by THE BEATLES:
Birthday, Let it Be, Mother Nature's Son, Hey Jude, Here Comes the Sun, Something & Revolution

+ + +
    

FREE COUNTRY, vol. III     
" '60 / '69 " 
(aka. Free Country, "The American Trilogy", vol. III)
(2015)
   1960's
cultural revolution anthems, including hit singles by:
Louis Armstrong(!); Joan Baez; The Beach Boys; The Beatles; James Brown; John Coltrane; Bob Dylan; The Doors; Aretha Franklin; Simon & Garfunkle; Jimi Hendrix; Janice Joplin; Sly & the Family Stone; The Stones . . .  
Banned–Buzzz:
Hank:  I'm not sure I can ever sing that song after all that's happened.
Phil:  Trust me, we owe everyone to reclaim the intent of our national songs.
Christian:  No — oh, my god — — — really, you actually argued for the entire rehearsal?
Drew:
Yesssssssss, you've done it, once again!
Hank:
My brother, it's so nice of you to think of my voice, too.
Jimmy Joe:

  Man, are you certain you don't want all of that played in tune?
Phil:

 
The American Opera — our past century's campfire sing-alongs, growing up.
CSJ:
WHAT IS FREE COUNTRY?
*

1 part Yanda's Country AND Western teen gigs + Jimmy Page/Hendricks, and Wes
*

1 part  Hank's Downtown + grandpa Roberts with his Appalachian barn dance fiddle
*

 Equal parts 20th & 21st century romanticism, w/past century's themes, acoustically rendered
*

A double-shot of the Gress & Haynes rhythm team ala' deceptively simple head arrangements
*

A generous Bavarian executive's intuition/taste (not bad, appparently), and then . . .
TWISTED!!!!!
It's a WIDE-open,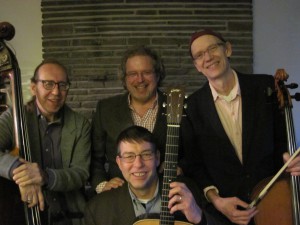 Facts

 stranger than

Fiction
I had left my car in a Baltimore, MD, Park-n'-Ride lot while I was out of town for the weekend.  I returned home to a phone call from the police informing me that my car had been stolen, and that they had towed it out of some thick woods off of Route 40, where it had been run into a ditch and abandoned.  I went to the police station to claim back the contents of my glove box, which they were holding as evidence. I had some valuable stuff in that glove box: my passport; some money; a $200 uninstalled car stereo head unit. I was sure all of it would have been stolen. But, to my utter surprise, it was all left untouched!
As I sputtered back home in my reclaimed ride, I flicked on the stereo. . .  I realized the one thing that those thieves had taken out of my car was my prized copy of Phil Haynes and Free Country's "How the West Was Won" – disc, case, and all!
I burst out laughing as I imagined the carjackers cranking up the stereo and finding Phil and Co.'s jazzy, rootsy romp through Americana to be the perfect soundtrack to their late-night joyride.  [After all,] I'm always happy to turn new listeners on to the music of my good friend and mentor. . . !
~

identity

with-held

upon request

, Bucknell University, '11